News and Notes
Check here for the latest news and notes from the Junior Shag Association
March 2nd, 2023
Junior SOS 2023 Registration is Open!
Click below to get your tickets for this year's Junior SOS from July 11th-16th, 2023!
Click here to Register
December 10th, 2022
Jacksonville Junior Shag Christmas Party and Dance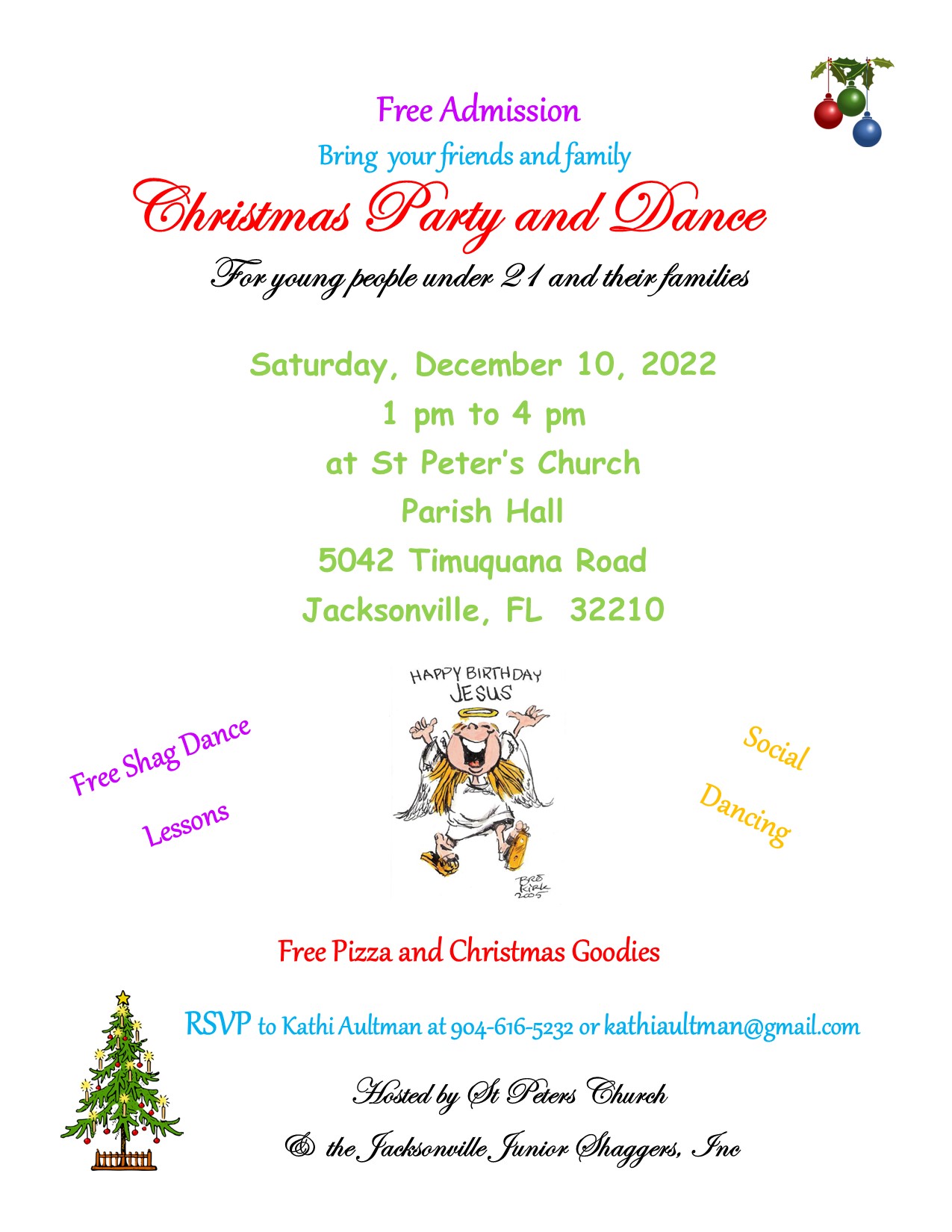 ANNOUNCING!
Jacksonville Junior Shag Christmas Party and Dance
December 10th from 1 to 4pm
St Peter's Church
Jacksonville, FL
Free Shag Lessons / Social Dancing!!!
June 14th, 2022
Junior SOS 2022 Schedule Available!
Click the link below for the 2022 Junior SOS schedule of events!

2022 Jr SOS Schedule
June 1st, 2022
Junior Ambassador and Volunteer SignUp is Open!
Juniors, click the link below to sign up to be a 2022 Junior Ambassador.
Adults, click the link below if you'd like to Volunteer to help out.

Jr Ambassadors click here!

Volunteers click here!
May 13th, 2022
Junior SOS 2022 Registration is Open!
Early Bird registration is now available. Click below to get your tickets for this year's Junior SOS from July 12th-17th, 2022!
Click here to Register
April 11th, 2022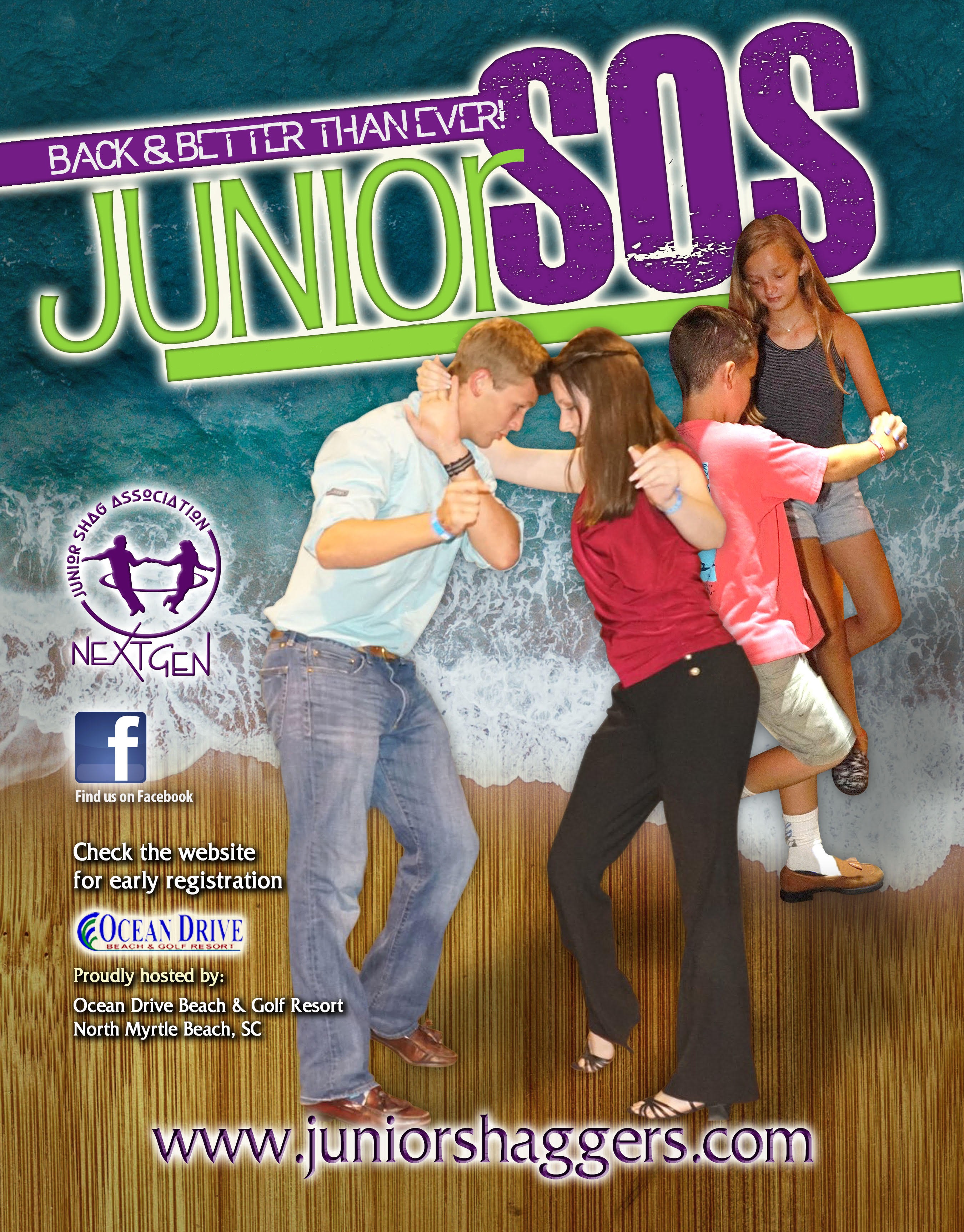 ANNOUNCING!
We're excited to announce that Junior SOS will be happening in person this year! The board has unanimously voted in favor of this, and is thrilled to welcome back everyone. Please stay tuned on our social media platforms and website for all news and updates.
March 29th, 2022
Junior SOS 2022 Scholarship Application
The Junior Shag Association Scholarship will be presented to students that have displayed a record of and/or aptitude for academic success, as well as qualities of leadership and community service. This is a scholarship that will provide a monetary award to selected recipients on the basis of academic performance in their college studies. The Junior Shag Association is a non-profit association, funded by voluntary contributions of individuals, businesses, and organizations that support the Association's work.
Click here for Application
February 7th, 2022
Junior SOS 2022 Update
The Junior Shag Association is actively planning for this year's Junior SOS. We are excited to celebrate the 31st anniversary of the largest junior dance event in the world! The 2022 dates for Junior SOS are July 12-17th.
In order to honor the history and traditions of our past, we must thoughtfully prepare for the future. To set up all generations for success, The Board will finalize this year's Junior SOS plans under the guidance of the most up-to-date healthcare standards. The format (in person or virtual) will be announced in April.
If we are able to have an in-person event, the OD Beach and Golf resort will be our host for this week-long event.
Please follow our social media for the most up-to-date information and announcements.
January 4th, 2022
2022 Eddie Monsour/Dewey Kennedy Scholarship
The Eddie Monsour/Dewey Kennedy Scholarship Fund was started in 1996 in memory of Dewey Kennedy who probably loved the dance, junior shaggers, and the camaraderie as much as anybody around. Eddie Monsour was added due to his many contributions to the juniors that keep our dance alive. Although the idea and the original funding for the scholarship were started by CSA dancers as a way to honor and remember Dewey, the means to fund the scholarship each year comes from various groups, individual contributions, and fundraisers.
Deadline for application is January 28, 2022
Click here for application
November 13th, 2021
2021 Carolina Beach Music Awards Junior I, II Contest
Juniors dance Saturday at 11am at Fat Harolds Beach Club in North Myrtle Beach.
July 1st, 2021
May 15th, 2021
2021 Junior Shag Association Scholarship Application is now closed for 2021. Thank you to all that applied. We will announce the winner this summer at Virtual Junior SOS!

February 5th, 2021 - Junior SOS 2021 Update:
It is with deep regret and sadness that we announce the cancellation of Junior SOS 2021. This was an incredibly difficult decision, as this is truly the highlight of our year. Due to the significant impact and continued threat of COVID-19, we believe it is in the best interest of all participants to cancel the event this summer. The health, safety and well-being of our dance community is our top priority. Please stay tuned for more information on Virtual Junior SOS, July 13-18, 2021. The Junior Shag Association Scholarship will still be awarded for 2021 and the application will be updated on the website soon.